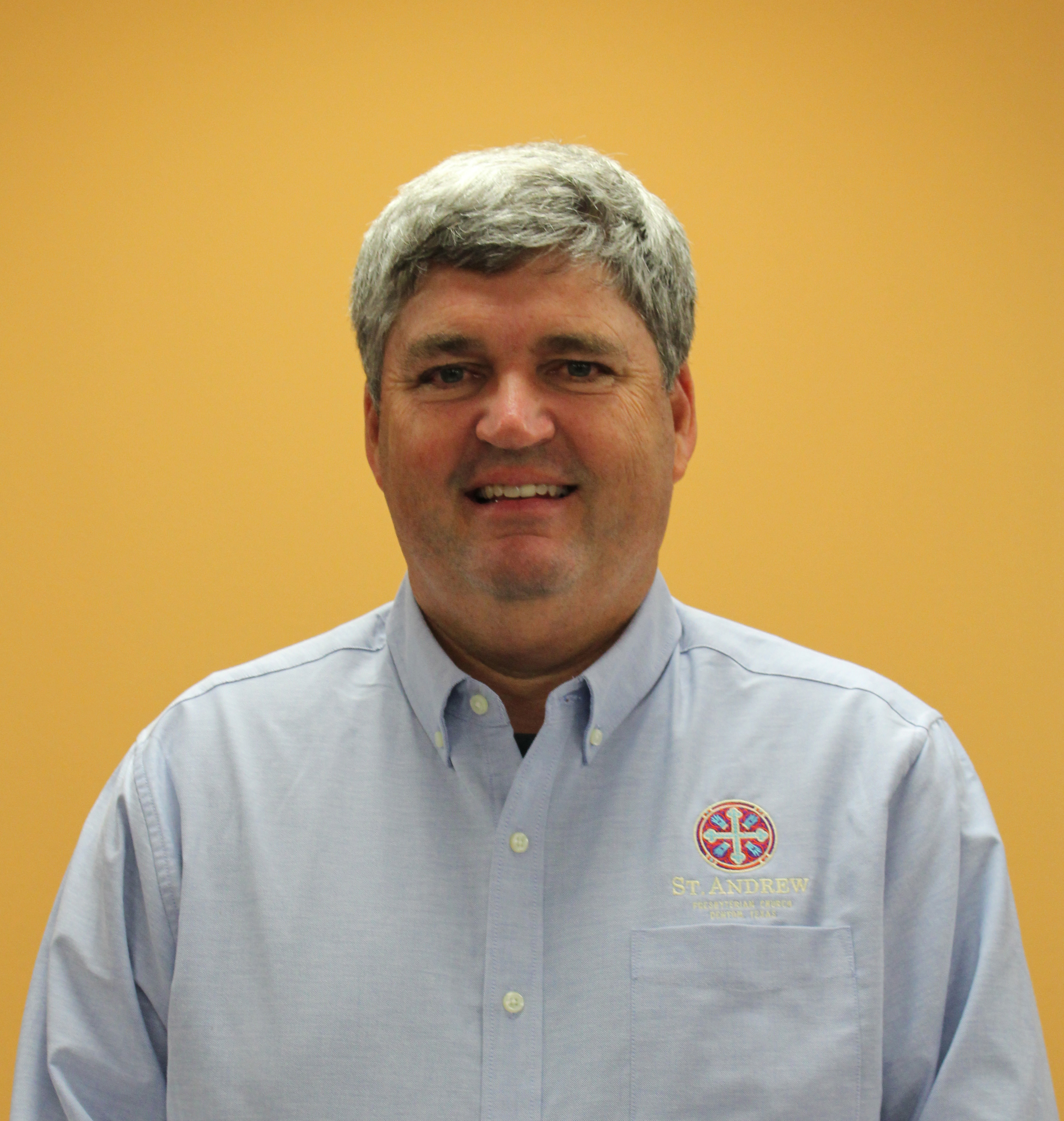 If you were to ask members or visitors about what attracts them to St. Andrew, I suspect the first two answers would be mission and worship, especially the music. Last Sunday, we saw the mission work firsthand as we, who just had been fed at our Lord's Table, gathered around tables in the fellowship hall to pack over 17,000 meals to be shipped to an area in Mexico desperately in need of food. Members and visitors of all ages worked together to live out Christ's command to feed the hungry. This week, we will gather for a jazz service and an opportunity for the music to help us imagine the mysterious God whom we worship. Listening to music will be less concrete than packing meals, but both reveal the God who is ever in our midst, calling us to new places and serving others.
Parents' Night Out
Parents' Night Out (PNO) is a program for the young families of St. Andrew. The program has a two-fold purpose: it gives parents an opportunity to spend quality time together without their children and it gives the children an evening of fun, age-appropriate activities with their friends at St. Andrew. The evening runs from 4:00pm-8:00pm for infants-3 year olds in the Nursery. In the Rec. Center, 4 year olds-elementary age will meet from 4:00pm-9:00pm. We ask parents to make reservations no later than Thursday, the week of PNO. Please email Ms. Sue at: toddlerqueen2@gmail.com, or call at 940-300-9262, for reservations.
Spring dates: Feb. 10, Mar. 10, Apr. 14, and May 12
February 11, 2018
Jazz music, jazz musicians, and a jazz sermon. Don't miss out on a chance to tap your toes, feel the music, and discover God's presence in a special way Sunday, February 11.
February 11, 11:45am, Room 207/209
Your fictional Aunt Matilda had a stroke and is very ill. You're suddenly in charge of everything - her medical choices, her home and pets, her bills, her insurance claims, her growing care expenses, and perhaps even her funeral. How do you know what she wants you to do? And exactly how do you pay her bills from her account, get her doctor to talk to you about her condition, and perhaps sell the car and house she no longer needs? Powers of attorney or guardianship are often the answer, but how do they work? Parents, you need to explore this for your young adults as well in case of their illness or injury -- will you have the ability to manage care and money for them while they recover? Join us for our 3-part series on hot topics in aging, titled "I'll Never Need to Know this Stuff, but Just in Case..." We'll gather for a light lunch and discussion on February 11 and 18, from 11:45am to 1:45pm. Invite your parents, or your adult children, and your neighbors and friends, to join you and talk about these important topics.
Presbyterian Women
Circle I will meet at 9:30am on Tuesday, February 13 in the church narthex. Our hostess will be Eileen Duffield and Barbara Lawson. We will be studying Lesson 5 in our Horizons book. We will collect $1.00 for DCPS for paper towels and $1.00 for Denton Food Pantry. All women of the church are invited to join us. For more information, please contact Linda Heilig, Circle I Chairman.
Circle II will meet at 9:30am on Tuesday, February 13, in the home of hostess Betty Alford, with Karyn Nelson assisting. In Lesson 6, "In Community with the Reality of the Present" (Heb. 2:10-18, 10:34-35, and Mark 8:31-38), Jesus and our faith community support us. The Rev. Dr. Fred Cassell leads our study. All women are welcome. For more information, please contact Lib Berry (940) 584-0128.
Women's Book Study for Lent
Women's Book Study for Lent begins on Wednesday, February 14 at noon in room 206/208 and continues until March 28. Join us for lively discussion as we reflect on stories of God's grace and practice Lenten disciplines in the midst of our Lenten journeys together. Books may be picked up in the narthex, and you may pay Lisa for the book at the first class session.

Books:
Wounds Are Where Light Enters: Stories of God's Intrusive Grace
by Walter Wagerin Jr Cost: $15
Holy Solitude: Lenten Reflections with Saints, Hermits, Prophets, and Rebels by Heidi Haverkamp Cost: $12
Ash Wednesday Service
Wednesday, February 14
7:30pm, Sanctuary
Please join us as we begin the Lenten season with a service of worship on Ash Wednesday.
Following Super Wednesday, at 7:30pm, we will gather in the Sanctuary for a traditional service that includes the imposition of ashes.
Register Now for Women's Retreat
March 2-3 @ Prothro Center at Lake Texoma
Prayer Mozaic
is a retreat for those who need some time away from familiar settings and the well worn and habitual ruts of life that our context can sometimes foster. We will have the time and opportunity to experience different prayer practices, like walking the labyrinth, and learn more about taking time to examine the ways in which God is speaking to us "doing a new thing" in our lives. We will be surrounded by the beauty of nature and enjoy discussions with

long-standing

friends or those whom we've just met around the dinner table or in discussion groups.
Questions? Contact Kathi Sale at
kathisale@yahoo.com or Lisa Patterson at lisa@saint-andrew.com
*If you want to carpool, meet at the church at 4:45pm Friday, March 2 to ride the bus to Prothro Center; Dinner will be served at 6:45pm. We will return around 5:30pm, Saturday, March 3 to the church.
Cost: $110 for double occupancy and $150 for single occupancy
The Children's Place Annual Fundraiser
As many of you are aware, the Children's Place is a nonprofit preschool here at St. Andrew. Our school serves approximately 100 children (ages 1-6 years) in our loving, Christian, child-centered enrichment program. In addition to keeping costs low for our families, we have a long history of providing scholarships to families who demonstrate financial need. Since we are a nonprofit organization, we face a special challenge to replace and upgrade equipment and materials and make up for any deficits in our annual operating budget. Our annual silent auction, held in conjunction with a dinner, is the primary fundraiser that supports this effort. We appreciate any monetary donation/sponsorship, a product, service or gift certificate for the upcoming fundraiser. If you are able to donate to our organization, please contact Sara Armstrong at 940-453-7046, or the school director, Brenna Newman, at 940-367-7716. Mark your calendars and plan on attending the dinner and auction as well! February 22 at 5:30pm in Fellowship Hall.
The Children's Place Openings
The Children's Place Preschool has a few openings for 3, 4, and 5 year olds. Please contact us if you are interested and please spread the word to any interested friends. We are a high quality and developmentally appropriate preschool and would love to share our program with some new friends! You can reach us at 940-387-7716 or
thechildrensplacedenton@gmail.com
.
There are openings on March 11 and 25 to provide chancel flowers. Please sign up using the flower roster outside the church office. Questions? Please contact Lynn Carrico,
lwcarrico@verizon.net
.

St. Andrew Family,
Thank you so much for all the meals, cards, prayers and words of encouragement during Shannon's illness and J's surgery. They helped make a challenging time easier for our family. Shannon is doing well and should be finished with her final step of treatment in March. J hopes to be back at work soon. We are truly blessed to have such an amazing church family.
Love,
J, Shannon, Caroline and Ross Konkle
St. Andrew Connect
Communicate with Your Committee Online
Is your Session or Diaconate committee using St. Andrew Connect? As we start the new year, the church office is corresponding with moderators to make sure that the Committees that you serve use St. Andrew Connect. Why? St. Andrew Connect offers groups the ability to streamline communication and offer storage for documents your entire committee needs!
There are two places to look for information from your committee. When you login to St. Andrew Connect, you will see your "News Feed." This area aggregates all the items being posted to your Committees' group pages. You can also see committee-specific posts by navigating to the Committee page under the "Groups" link in St. Andrew Connect and then choosing your group.
Need to post a file for your entire Committee to see? Simply navigate to your Committee page, click the icon that looks like a pencil on paper and attach your files to a new post.
Want to know more about St. Andrew Connect? Do you need an invite? Contact Lou Korom in the church office at
lou@saint-andrew.com
.
Spaghetti and Canned Sauce, Canned Green Beans, Canned Fruit
Optional: Coffee, Cereal, Dry Milk
Please return your non-perishable donations for the Denton Community Food Center to the collection bin by the Coke machine near Fellowship Hall. Thank You!
Sunday, February 11


9:15am Presbyterian 101
9:30am Sunday School

10:30am Jazz Worship Service
11:45am Lunch and Learn, Room 207/209

Scripture Readings:

2 Kings 2: 1-12, Mark 9: 2-9

Sermon:

"

Transfiguration Reimagined

"

Calendar



Parents' Night Out
Saturday, February 10
4pm-9pm, Rec Center

Presbyterian 101 Begins
Sunday, February 11
9:15am, Parlor

Lunch and Learn
Sunday, February 11
11:45am, Room 207/209

Presbyterian Women
Tuesday, February 13
Circle I, Narthex
Circle II, Alford Home

Tuesday Afternoon Women's Bible Study
Tuesday, February 13
1:30pm, Room 206/208

Diaconate Meeting
Tuesday, February 13
7pm, Room 206

Women's Lenten Study
Wednesday, February 14
12pm, Room 206/208

Super Wednesday
Wednesday, February 14
5:30pm, Fellowship Hall

Ash Wednesday Service
Wednesday, February 14
7:30pm, Sanctuary

Men's Study Group
Thursday, February 15
8am, Upper Park Cafe,
222 W. Hickory St.